As we celebrate Earth Day this month of April, we are reminded to simply be an eco-friendly to the things around us. Throw garbage on the right thrash bags, clean up our environment, our house and place, support all the local activities during Earth Day, like Earth Hour, switching off our electricity for an hour and that will make our mother earth happy even in for that short time. It will be a big help.
Our personal needs like cleaning up ourselves or our personal hygine can also be an eco-friendly. How? That is with the help of our online friendly neighborhood, SHOPEE. They have these eco-friendly alternative products called MESSY BESSY. I ve got the chance to use some of it and voila, it is really an amazing experience.
First on the list, the MESSY BESSY HAND CREAM.
For me, it is indeed very useful, and not so sticky unlike any other products, that when the moment you used it, "naiiwan sa kamay", this messy bessy hand cream is not. There is a smooth feeling when you finally started to rub it within your hands and very applicable to those who are "pasmado ang kamay".
Lastly, why is it eco-friendly? All because It has a relaxing scent, which are all herbal and the one that I've tried is Bamboo. It is very relaxing and a stress reliever. Definitely and highly recommended.
Next is MESSY BESSY HAND AND BODY WASH.
Your skin won't get dry because it has a non-alcohol ingredient. Also, an eco-friendly one product because of the herbal scent. It is 98.5 plant derived. For me, it is very useful, has a good scent and very eco-friendly.
Third on the list is the MESSY BESSY SURFACE CLEANER.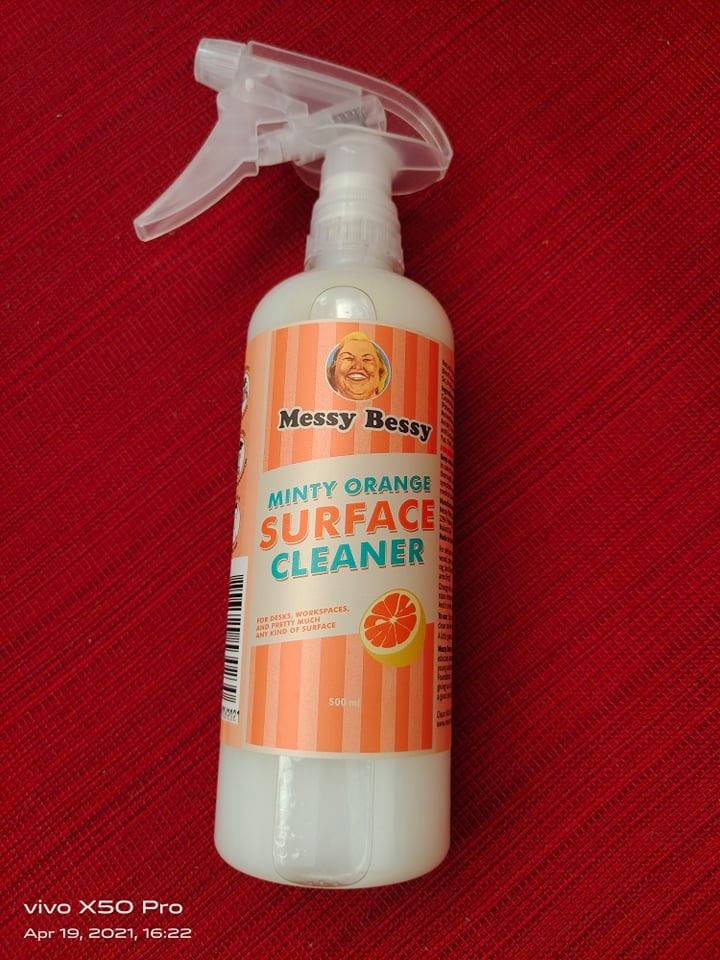 An all-purpose cleaner that's more on the cleaning the surface. It has an Orange oil scent, which is of course an eco-friendly smell. Definitely a stain remover, when I tried it into one of our tables at home. It wipes, it cleans and dries all the surfaces that you want to clean. Guaranteed and recommended.
Fourth is the MESSY BESSY FRUIT AND VEGGIE SANITIZING WASH
This time, will be on the food that we are about to eat. We need to wash it first of course to take away all of the germs and viruses outside it. Especially on the fruits and veggies that we usually eat, that we also need to sanitize it, but its very different from the usual hand sanitizer.
It has a different set of formulas and ingredients especially created in washing of the fruits and veggies. And the scent is made of course by fruits and veggies that truly is an eco- friendly one. As for me, it is indeed safe and clean to use.
Last but not the least is the MESSY BESSY LITTLE WARRIOR SANITIZER
It has a Green Tea scent that makes it course an eco-friendly one. A hand sanitizer, disinfectant, room spray that is very useful nowadays. It can help us lessen the small viruses around us specially to kill this Covid 19 virus.
It has a relaxing smell also and it will not give you a headache once you've tried it, unlike any other sanitizers that when you practically smell it, and has a strong scent, instead of giving us a stress free feeling, it helps us to and and made our day, really an eco-friendly one.
So my dear Messy Bessy friends out there, try these eco-friendly alternative products from Shopee and experience the extraordinary. To know more on the details please visit https://shopee.ph/product/32052349202/5616868530
Comments
comments